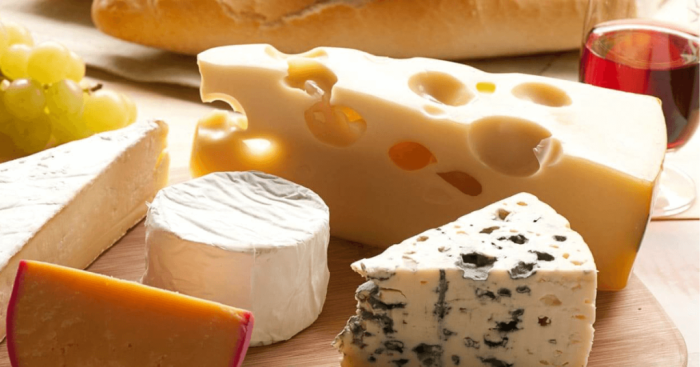 It is a common misconception that you cannot ship cheeses made in France to the United States. Yet in fact, you CAN ship some types of French cheeses into the United States.  If you have been curious about which cheeses are allowed and which cheeses are not, this article will explain the current rules and regulations for shipping cheeses made in France into the United States.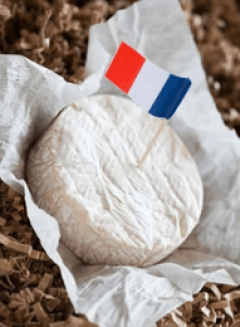 Why This is Important to You
Knowing exactly which French cheeses you can and cannot ship into the United States is extremely important to your business and ultimately your American customers.
If you ship the wrong type of cheese to American customers, you risk having your valuable cheese shipment immediately confiscated (Detained without Physical Examination).
Furthermore, you will ultimately need to refund your customer and pay for a delivery that was not even completed.  You have now lost money, time, and the opportunity to sell that precious cheese to another customer.
Likewise, if you assume you cannot export any French cheese at all to the United States, you are missing out on the prime opportunity to acquire American customers, and ultimately, American dollars.
Why the US Puts Restrictions on Imports
The United States FDA bans many international foods, including different types of cheeses, to keep American consumers safe and healthy.  Restrictions are typically based on foods not meeting benchmark safety standards, a safety trend, or a significant event causing concern.  Essentially, the idea is that foreign made foods must meet at least the same standards as what is produced within the US.
In the case of cheese, some French cheeses are forbidden due to concerns that bacteria levels such as E. coli might be greater than the allowed limit.
One such event occurred in 1986 with the detection of listeria in French brie cheeses resulting in the US detaining all "brie and other soft-ripened cheeses."  A  year later, the FDA agreed to allow soft and goat milk cheeses into the United States provided that they used pasteurized milk and were tested for Listeria as part of a French Ministry plant and product certification program.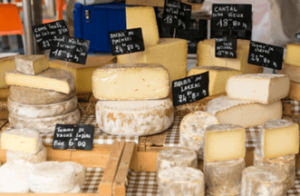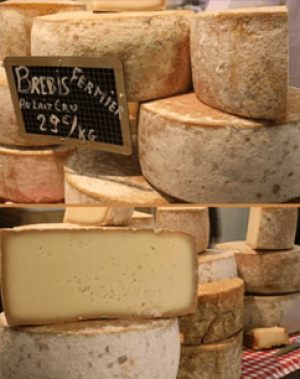 Cheese- What is Not Allowed
Generally speaking, cheeses that are soft, unpasteurized, are younger than 60 days old, and/or have been singled out are not permitted into the United States.
This would include cheeses such as:
Soft and soft-ripened cheeses from France not on the Green List
Mimolette
Époisses
Reblochon
Raw goat's milk cheeses (i.e., chevre)
Unpasteurized French brie
Unpasteurized French camembert
Liquid cheeses (i.e., cottage cheese or ricotta)
Consideration for Shipping Cheese
Being perishable, there are special considerations when shipping cheese: Time, type, and temperature.
Temperature: Everything about the shipment should be based on maintaining your cheese's temperature.  Temperature is the enemy of cheese. Allowing cheese to get too warm may affect its consistency. The choices of box, delivery time, day to ship, and packaging all revolve around temperature.
Time:  Because you need to transport your cheese to your customer in the shortest time possible, we highly recommend overnight or express shipping.  Also, make sure that you ship on days when delays are unlikely; avoid shipping right before a weekend or a holiday where shipping staff may be limited or your recipient may not be available. Similarly, time is truly of the essence when shipping during notoriously hot seasons or to warmer destinations (i.e., Southwestern or the Southern United States).
Type:  Ensure the type of shipping box and packaging you use are best to insulate and protect your cheese. You want to keep your cheese as cool as possible. The external box should be solid, not only to protect the cheese from bumps and bruises but to block any variables that might adjust the internal temperature. Inside the box, use frozen gel packs or dry ice in your shipment to maintain refrigeration.  And of course, make sure to vacuum seal your cheese so that any moisture or air does not touch the cheese.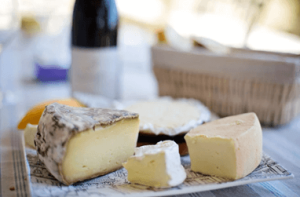 Easy FDA- PriorNotify
As with any type of food, another key component of shipping French cheese to the United States is the requirement to submit a USA FDA prior notice.
If you already sell or distribute international food and beverages to customers in the United States, you are aware of how time-consuming and exhausting the American regulatory process can be, particularly when manually completing Prior Notices.  However, with PriorNotify, this process can be automated, with completion taking only seconds.
PriorNotify is an e-commerce app that streamlines and automates the USA FDA Prior Notice documentation for selling and shipping food and beverages internationally to customers in the United States.
PriorNotify was designed with food and beverage producers in mind, as well as merchants, wholesalers, drop shippers, and fulfillment and shipping services. International businesses can now easily sell and ship food products to retailers, wholesalers, and consumers in the United States of America.
The process is easy, even for smaller companies.  PriorNotify's integration with Shopify, WordPress (WooCommerce), Magento, PrestaShop, and WiX allows Prior Notices to be completed automatically when a product is purchased.  PriorNotify also offers a free trial so you can experience the system before you purchase.  Try it for yourself- save time and the hassle of manual form completion.
Wrap Up
French cheese shouldn't be an instant non in your mind.  A good number of French cheeses are allowed into the United States. By following the US import regulations, considering best practices for shipping, and using PriorNotify, importing/exporting French cheese into the United States can be a quick game-changer for your gourmet food business. Don't miss out on the opportunity to expand your sales to American customers who are literally hungry for quality and authentic French cheeses.